An integral part of any business is company culture. It has a powerful effect on almost all organizational aspects. From the onboarding process to employee experience, it is a crucial element for a satisfied workforce.
If the company culture isn't positive enough, employees feel they don't truly belong to the organization. When they feel out of place, they tend to become disgruntled, which can lead to more serious business problems in the long run.
The challenge of fostering a positive company culture is even greater when it comes to managing a remote team. If you want to grow such a culture with your virtual team, here are some guidelines to help you nail it down.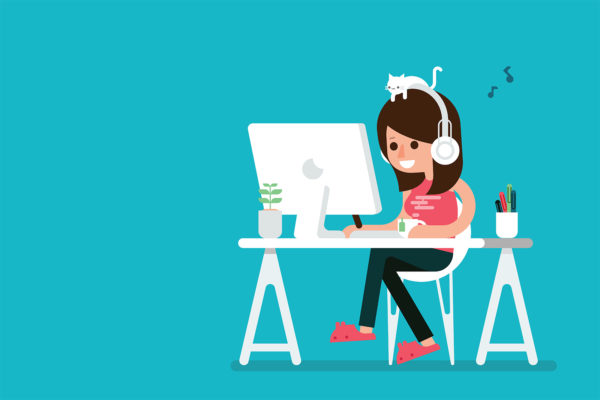 Get to Know Everyone
Sharing an office with coworkers every day, employees, whether they like it or not, get to know them very well. That isn't the case with remote teams.
They do share a virtual office, but they are far from being close. When your team members act as individuals rather than a team, your business might start to experience problems with engagement and collaboration.
What you can do to turn things around is to encourage informal interaction in the workplace. They might not be able to gather around the water cooler and chat, but they can use some tools for internal communications and chat in between meetings and tasks.
Similarly, HR managers can organize virtual team-building activities which will allow team members to get to know each other well and become a team.
Welcome New Employees 
If you worked in an office, you and your employees wouldn't hesitate at all to greet and welcome new employees on their first day at work.
You can still give a warm welcome to the newest addition to the team only with slight changes. For example, you can organize a special meeting. During that meeting, new hires can introduce themselves to the team and start settling into their new position.
Don't forget to introduce the existing team members and give them some time to get to know each other. There are no better promoters of company culture than people who already work there. They can bring to speed new employees and help them adapt to the new work environment.
By welcoming new employees and participating in the adaptation process, you create a company culture that fosters support and reliability. 
Communicate More and Better
Whether your company culture will be a success or a failure solely depends on communication. If the team communicates effectively, the company culture will be a positive one regardless of their distant location. Otherwise, your business is in trouble. The first step towards good communication is setting regular daily meetings whose presence is also mandatory. They can serve for checking in on the team, tracking project progress, assigning tasks, or addressing any concerns they might have. Moreover, the management can give updates and share details about corporate decisions affecting the team's well-being and structure. Furthermore, as a team leader, you can use these meetings to motivate your employees and lift their spirits.
Encourage Honesty and Openness 
What most organizations need these days are openness and honesty. A positive company culture fosters those values as well. If you strive to have a similar culture, encourage every individual in your organization to contribute.
Don't let the extroverts do all the job. Stimulate the introverts to engage and contribute more to themselves. When employees keep a low key in the workplace, it doesn't do them or the company any good.
It might take a while for them to feel comfortable expressing their ideas out loud. Once they see how everyone respects, supports, and helps one another, they will too slowly open up and share their opinions freely without fearing someone might judge them.
Similarly, the management should also keep all communication between them and employees as transparent and honest as possible. It will build mutual trust and create a culture of trustworthiness too.
Emphasize Their Wellbeing
You can't expect to grow a positive company culture if your employees are unhealthy. To make their valuable contribution to achieving this goal, the staff has to be in a good mood and completely healthy.
Encouraging them to lead an active and healthy lifestyle and to balance work and family commitments might be helpful. This is especially important for remote teams.
Remind them to take breaks as often as they need to throughout the day. More importantly, you should make sure they have all the support and help they need to stay fit and healthy. You can provide them with good health insurance policies, additional amenities such as gym memberships, fresh fruits, snacks, and beverages in the office. This way you make sure your staff feels best both in and out of the office. 
Practice Active Listening

Most managers and employees could greatly benefit from active listening. Both sides in a conversation should actively listen to make the communication more effective.
Active listeners deliver the message just the way they intended to. What employees value the most in strong cultures is when their superiors listen to them and appreciate their feedback.
That is when they feel valued the most in an organization. Therefore, to spread positivity around the workplace, you should listen to your staff. Address their concerns, let their voice be heard, and use that knowledge to make improvements they need so badly.
Furthermore, encourage employees to become active listeners too. When they listen carefully to their coworkers, misunderstandings and conflicts are highly unlikely to happen. 
Set and Share Goals
The business world is all about goals. No matter what industry the business belongs to, it has to set clear and achievable goals. More importantly, managers have to share them with their employees.
Setting objectives is a great opportunity for both employee engagement and company culture. Great leaders consult their team members and establish aims together.
Moreover, they come up with detailed steps and responsibilities for every member of the team to achieve them successfully and within the given time frame. Furthermore, employees work together on both setting the goals and reaching them.
When employees work together towards a goal completion, they feel like a part of something way bigger instead of working solely to earn a paycheck. Reaching the goal motivates them and increases their confidence and morale. 
Recruit Carefully
If you are looking to build a positive company culture, you need employees that share the same vision and values as your company does.
In case their values don't align with yours, employees might create disruption and lower productivity levels, thus negatively influencing the company culture as well.
For this reason, you have to be smart and recruit carefully. The recruitment process is tiring and time-consuming. Still, it is definitely worth the trouble if it helps find the perfect fit in the company.
That one candidate that will help cultivate the company culture just the way you want them to. When their values align with the company's, they can attract new customers and boost sales as well.
Therefore, look for an experienced and skillful candidate, but also one with a similar personality to your team.