Having a big dream house is a great moment of joy and excitement. It's a perfect place to raise your whole family. Your new home is beautiful and surrounded by a community of friendly neighbors, beautiful parks, and great schools.
After have got relieved yourself from all the headache of selling and closing your current place. Now the last thing you have to do now is to move your kids to your new house.
Moving had always remained a big hassle for any family. It's not easy for them to leave their familiar place and leave it for a new house.
It can be a moment to enjoy with the new location and people for elders, but it's a not moment of happiness for kids. They have to say goodbye to their friends and schools, although they are unwilling to do so.
It also disrupts their routine. An excellent way to move with kids and reduce the moving stress is to plan how to address them.
There's no perfect way to eliminate the challenge of moving with kids. Some elements of moving like, packing, carrying, and adjusting items can quickly turn your relocation to the new house into a nightmare.
Further, it will bring a lot of frustrations for you and your family. However, you can make your move as smooth as possible for your little campers with the help of these tips.
Tell kids that they are moving.
The first most thing you should do is to tell your kids about the move. We know it's not easy to address them while you are also worried about other circumstances of moving about settling into a new neighborhood.
You are also struggling to transport your furniture in good condition. It's a tough row for children to hoe in losing old friends, familiarity, and adjusting to a new circumstance. Fortunately, there are some things you can do to help your children move on.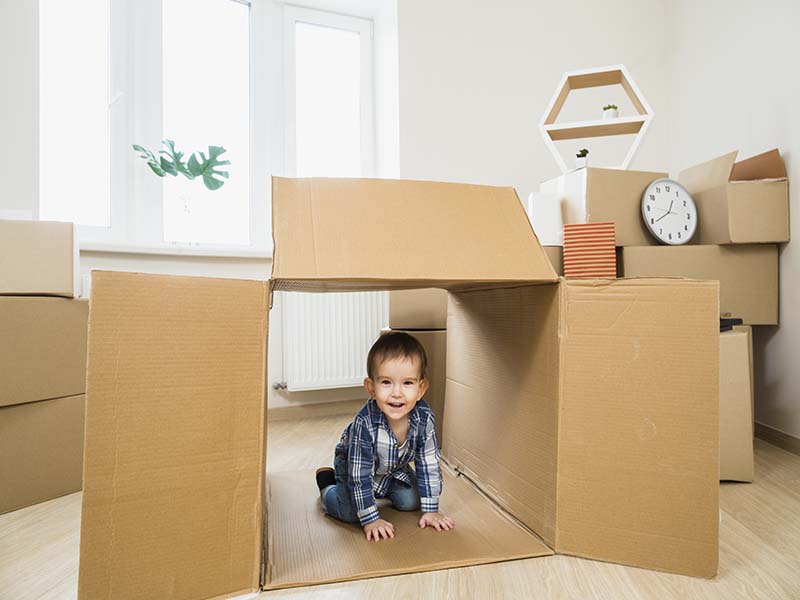 1. making kids involve in the moving process
During finding a new home, professional movers, and getting stuck in these things, it's easy to ignore your kids during all of this. The best way to reduce youngsters' affliction is to involve them in the moving process. Even these kinds of tiny tasks can change the direction of children's feelings and enjoy moving towards their new home.
You can do this in a few ways. Ask kids to help you set up and run a yard sale, repaint the living room or do any narrow task you're considering.
There are many ways to make moving interesting for little ones to enhance their creativity by reusing packing material.
Alternatively, kids should pack a few of their items into moving boxes. To help them in ease, label cardboard boxes with their names written on them. To make their boxes look beautiful, let them ornament with different colors and stickers.
2. Taking advantage of using time
If you planned months ago before your final moving day, you have enough time to manage things. But if you have an emergency move, you may have a matter of weeks.
If you planned a couple of months ago, you can utilize your time to change into different advantages and opportunities.
Your kids will only prepare for the move if you provide information about the resettlement, pictures of the bedroom in their new house, photos of the local playground, and where they will go to school.
For a short or long-distance move, you can make a plan for all the moving steps with your child. They may ask you some questions about their move, and you can assure them about the excitement to get move into a new home.
3. Visit the neighborhood you are moving to
You can raise kids' excitement for moving if you take them to tour their new school, the downtown area, or walking to a new neck of the woods. You can make this plan before moving day.
You can get information on particular activities happing to kids on that day with a local newspaper's help. Take a short visiting tour to the recreation place, joy-land, or local sports events, and it will help your kids open their eyes to the new neighborhood. Your move shouldn't be a part of a surprise event for kids.
4. Hire a kids-friendly moving company
On a moving day, you might be busy coordinating with your mover and packing for household appliances. All of these procedures can make your kids feel alone and get bored.
However, some moving companies in Abu Dhabi take care of this moment, and they create unique activities for kids to make them involved in moving day.
Search for these companies and read about such offers for kids on their website or blog. You might found for such companies that don't offer special activities for kids but pay for childcare or doggy day-care. Some companies have invented creative ways to make your kids engage on moving day.
Conclusion
Moving is not a part of the matter for adults only, but it can also make your kids feel lonely and stressed. Relocation should be exciting for them, and you should provide as much possible information as you can. To lower their worries about leaving their old friends, school, and intimate neighborhood, arrange a short tour of your new home and surrounding. Doing this will help them to stay relaxed and excited about shifting into a new environment. It would help if you made some arrangements for children to keep them busy on moving day.