You will never hear a housewife or anybody who actually spends some time in the kitchen say: My kitchen is too big! Everyone dreams of some extra space to accommodate kitchen utensils, dishes, appliances, and million other things that we keep there.
And, don't get us started on the counter space! But there are certain ways to make your kitchen look and feel bigger, so let's take a look at them.
Keep your kitchen free from clutter, and it will appear bigger
The items you don't use so often deserve no space in your kitchen. If you are not satisfied with the size of your kitchen, you should try harder to make it lighter by getting rid of all that you don't need.
Start by decluttering your countertops and move on to the drawers and cabinets. If you do this regularly, you will be able to tidy your kitchen up rather quickly since there will be no accumulated mess.
When you keep your countertop clean and organized all the time, you do not interrupt the sightline, which makes your kitchen instantly look and feel bigger.
We don't suggest removing everything since your kitchen would look sterile and as if nobody uses it. Keep the items that you need daily and lose all the rest. That's actually an excellent cooking tip, too, since you will feel more inspired to work in a tidy kitchen.
Maximize the light in your kitchen
When designing a kitchen, you should make such a layout that you use as much natural light as possible. Make sure that nothing is blocking it. Putting your sink right where your window is might be a good idea if you have a smaller kitchen since the standard cabinet above it wouldn't work.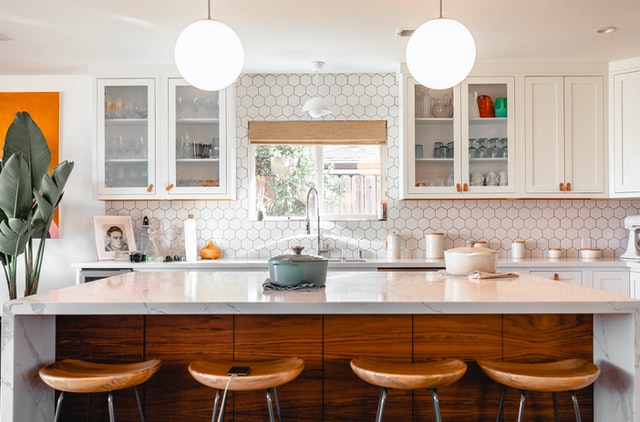 You should plan the artificial light in your kitchen carefully. No matter how small the room is, it needs more than one source of light. The ceiling light is a must, and you need some to light up your working area.
Pendant lights above the countertops and LED stripes under the cabinets might do the trick, but you might also need something for the darker corners of your kitchen.
If the room is lit from floor to ceiling, it will look and feel bigger than it actually is. So, if moving somewhere more spacious is still not an option for you, you can at least try this way to make your place appear larger.
Choose light colors
When it comes to choosing colors for the walls and cabinets in your kitchen, you should go for the lighter ones if your goal is to create an illusion of a bigger space. Plain white is not the only option; there are many greys, beige, and off-white shades you can consider.
Believe it or not, light color cabinets are also easier to maintain than dark ones. Should you feel that your kitchen looks monotonous, you can add a pop of color here and there. That is what the details are for – potted plants, decorative glasses, coffee mugs, etc.
A fruit bowl filled with fresh fruits is an irreplaceable detail that brings life to any kitchen. Plus, consuming fruit more often helps boost your metabolism, so having it displayed will promote this habit.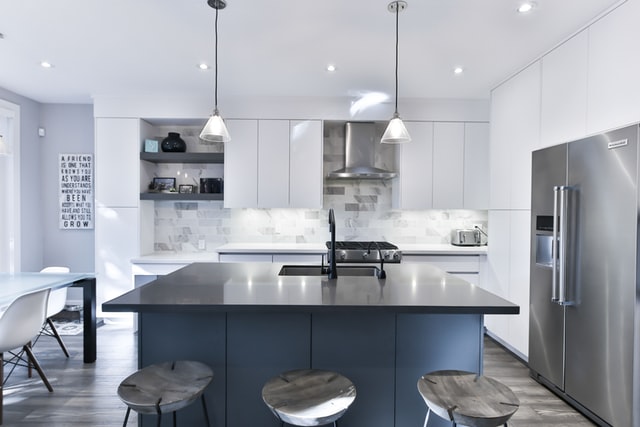 Do you really need big appliances?
We admit it – double sinks, huge fridges, and big stoves do look good in magazines, but are they used that often? If you have a big family of dessert lovers, you might need a 36-inch (plus) stove.
However, if this is not the case, you should choose smaller appliances you would really use. For instance, you don't need a dishwasher if you will run a full mode every other day.
Getting a smaller one is better both for your wallet and in terms of saving space. Also, a smaller fridge will make your kitchen look and feel bigger while at the same time making you buy fresh ingredients more often.
Panel appliances might be the solution to your problem. They save you a lot of space, and when built inside the cabinets, they blend better into the esthetics of your kitchen cabinets. They can be pricy, but they are worth the investment.
Opt for open shelves where possible
There are certain benefits that cabinets have compared to open shelves, but making the kitchen look bigger is not one of them. Sure, cabinets can be home to more items than open shelves, but we also tend to accumulate a lot of unnecessary clutter inside those.
Combining cabinets on the top with open shelves lower where possible might be the perfect solution. What you do not want visible can be put in the cupboards, while attractive and/or everyday items can be on display on the open shelves.
Since things kept there need frequent washing, it is practical that those are the ones that you use most often.
Shallow cabinets can also help you make your kitchen look and feel bigger. The cabinets that do not have built-in appliances inside do not need to be 24-inch deep.
Even though those can be a place to store a lot of items, the back parts are usually empty or hard to reach. Pick shallow ones, and you will have more floor space to move around.
Mirrors and glass can do the trick and make your kitchen look and feel bigger
Reflective surfaces give depth to space, so they should be your choice if you have a smaller kitchen. You can opt for a glossy backsplash made of stone, glass, tile, or stainless steel, or you can decide to incorporate a few reflective objects here and there.
A mirror can be an excellent detail somewhere on your kitchen wall or even on an open shelf. Speaking of shelves, we admit that the open concept can be a bit more difficult to maintain, so we have a suggestion for you. Upper cabinets with glass inserts on the doors could be perfect for you.
The glass will give depth to your kitchen while keeping the contents of your upper cabinets free from dust. Add some LED lights inside, and you will make the most of it.