Orlando is jam-packed with things to do for the whole family. The city itself is full of excitement, but of course, the main draw is the many theme parks in the area. With Walt Disney World Resort and Universal Studios in the same area, you are already spoiled for choice! 
You could stay for weeks in Orlando and still fill your days from morning till night, which is why it's such a popular destination for those around the world. From theme parks to shopping to live entertainment, there is everything you need here to have a stellar vacation. 
One thing you will need, regardless of how you plan your trip, is a great home base. The right hotel can make a world of difference to your trip. To book the right place, it's actually a good idea to lay out what you want to do in Orlando first. Regardless of what you want out of your trip, it's important to work out what you can feasibly get up to and then use that to pick the right hotel. 
Don't forget to consider downtime, either. Sometimes lounging by a pool and reading a good book can be just as therapeutic as going out on an adventure. The good news is that these top 8 hotels come with everything you need for a perfect trip. 
From transportation links to stunning pools to even delicious on-site restaurants. By picking one of these eight hotels, you can kickstart your vacation the right way. 
Source: Instagram, posted on October 20, 2021, Westgate Palace Resort's official profile
Westgate Palace Resort is home to luxurious two-bedroom suites that are perfect for groups of up to six. 
Westgate Palace Resort is the place to go when you want luxury. The newly renovated two-bedroom suites can sleep up to six and are finished with modern touches that will make you feel like you're in a glamorous hotel. 
With over 51 things to do in Orlando at any given time, and with so many experiences you will likely want to do more than once, planning ahead is key. You might want to make this a Disney-themed trip or want to spend most of your time in Universal Studios and International Drive.
From here, you'll be right across from Universal Studios as well, so there's no need to spend time driving to the theme parks or wasting time trying to park. Instead, enjoy a luxury destination right across the street from all the action.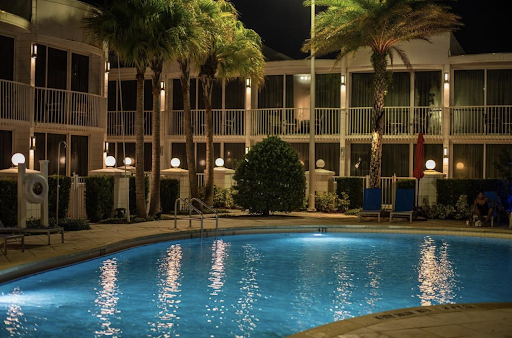 Source: Instagram, posted on September 24, 2022, B Hotel Resort and Spa's official profile
Enjoy affordable accommodation and access to the only AVEDA lifestyle spa in Orlando when you book at this hotel. 
This is a quiet hotel option for those that want to relax in peace between visits to the theme parks. Not only will your hotel room have views of the pool, but you'll also have access to the only AVEDA spa in the area. 
The spa offers everything you need to rejuvenate and even offers special kid-friendly packages so kids can join in too. While you get a massage or facial, for example, they can get their nails painted. 
Get to both Universal Studios and Walt Disney World Resort easily with the free shuttle services.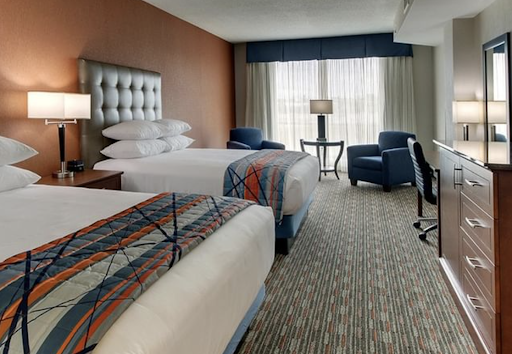 Source: Instagram, posted on October 17, 2019, Drury Inn and Suites Orlando's official profile
Drury Inn and Suites Orlando
This hotel is infamous for its affordable prices and its complimentary transportation to nearby attractions.
Drury Inn and Suites is simple, has no frills, and affordable. While it doesn't have flashy amenities, it does offer you everything you need to save. You'll get complimentary breakfast and free snacks through their 5:30 Kickback program, where you can get free wine, beer, and even spirits. 
Kids will get free snacks too in the lobby in the form of popcorn!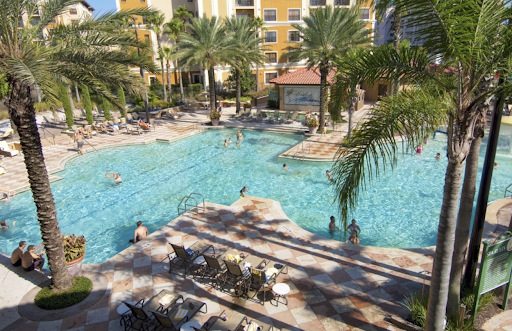 Source: Instagram, posted on May 7, 2022, Floridays Resort Orlando's official profile
Get condo-style suites at affordable prices when you book at Floridays, seen as one of the best value-for-money options in the area.
If you want to take a large group with you and are looking for ways to save, go to the Floridays. This is one of the most affordable options on this list and offers condo-style suites to give you and your guests a home-away-from-home experience. 
Take advantage of the full kitchen and laundry facilities to save big. The hotel also has pools, a splash park, and a therapeutic cold dip pool to help you relax and rejuvenate between visits to the theme park. 
If you're going with your family, you'll love the many family-friendly program activities that'll help you keep the kids busy.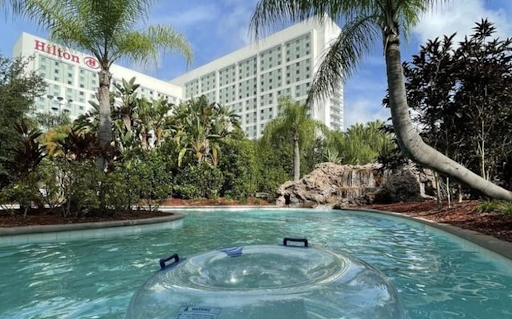 Source: Instagram, posted on August 31, 2022, Hampton Inn and Suites Orlando's official profile
Hampton Inn & Suites Orlando
This great hotel and resort in downtown Orlando feature a lazy river and comfortable accommodation. 
Hampton Inn and Suites is affordable, comfortable, and has everything that you need for a truly amazing experience in Orlando. Where else can you enjoy a great room rate and a lazy river right outside your hotel's doors? Not only will you have everything you need to have an enjoyable experience right on-site, but you'll also be close to all the theme park action. 
Don't worry about driving, either, as this hotel offers a free shuttle service to the theme parks, so you can start your day right at the gate, not in the parking lot.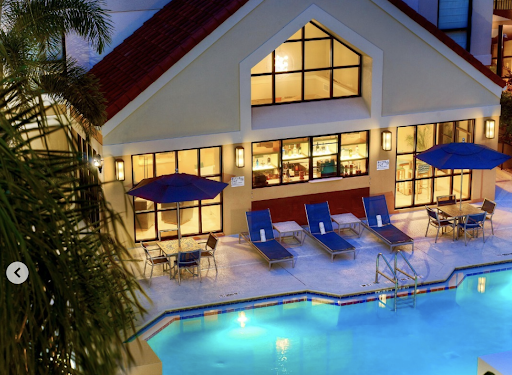 Source: Instagram, posted on September 20, 2022, Sonesta ES Suites Lake Buena Vista's official profile
Sonesta ES Suites Lake Buena Vista 
Get free shuttle services from this family-friendly hotel to Walt Disney World Resort. 
Sonesta recently purchased Staybridge Suites in Lake Buena Vista, and has made it into a great, family-friendly destination for those going to Walt Disney World. There are so many ways to save here, particularly if you stay for longer than four days. If you're planning a week's trip, you'll get exclusive discounts that'll lower your trip cost and put a little extra money in your pocket. 
Walt Disney itself is just 5 miles away, making this a great choice for those who want to explore the many theme parks in the area.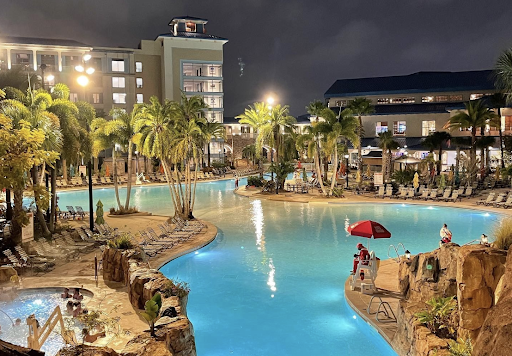 Source: Instagram, posted on August 15, 2022, Universal Orlando Hotel's official profile
Loews Sapphire Falls Resort 
This large resort has over 1000 rooms at great rates and can be found in Universal Orlando itself. 
This resort was renovated back in 2016 and has become a staple option for those visiting Universal Studios ever since. Not only are there many room types to suit your group size, but there is also a massive pool complex that has everything you need to relax. Something that makes this hotel stand out, however, is that it is pet-friendly, so you don't need to leave your furry family member at home.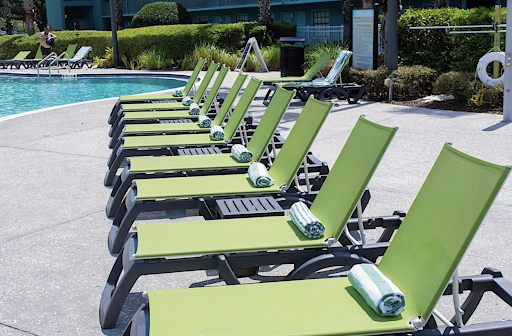 Source: Instagram, posted on August 17, 2022, Avanti International Resort's official profile
Avanti International Resort
Perfect for those traveling to Orlando by plane, this hotel is located halfway between the airport and the big theme parks. 
Avanti International Resort offers everything you need for a great day at the hotel and is close enough to all the action that you can have it all. On-site, you'll have access to a pool and can even play beach volleyball without having to leave the hotel grounds. You can even see artwork and artist showcases in the lobby on Fridays, from 3 pm to 6 pm. 
Tips for Saving More at These Hotels 
While all of these hotels were chosen for their great value, there are actually many ways to save more. Use these tips to help you save before you book for the best vacation experience. 
Check for Promotions and Package Deals 
One of the best ways to save before you book is to see if there are any package deals or special promotions that you would qualify for simply by booking. Many of these hotels have special park partnerships in place to help you get more out of your experience and save. Others have special loyalty membership programs that will give you access to exclusive rates and special discounts. 
Try to Go During Low Season 
This is a particularly great tip for those without kids. The busiest season in Orlando is whenever schools are out. If you want to save, then book when the kids are firmly in school (mid-semester) and enjoy more hotel options and lower rates all at once! For the most savings, remember going in winter or early spring is a great way to save. 
Eating out can start to feel very heavy and ends up being very expensive. If you want to save, eat in. There are many suites and even villas available that come with full kitchens so that you can make your own meals and bring your own lunches with you to the parks. 
More often than not you'll find it's cheaper to book one suite instead of two and especially three rooms. By going up, you'll get more amenities, higher levels of luxury, and be able to keep all your guests together.