A terrace, in all its splendor, is a fantastic thing to have, and an even better place thing to use. It is the marriage of a large patio, and the balcony concept accepted most often at ground level. It can be enclosed, opened to the fresh air and elements, or a little of both.
While having one on your home might be the ultimate reason you chose this particular home, it is likely you haven't truly taken advantage of its decorative possibilities. For instance, did you just furnish it so it would have seating, or did you handpick the seating to accentuate your personal style and flair. 
Decorating your outdoor space in the same way you designed the rest of your home makes sense. From the front door, every square foot is a testament to you and your decorative ideal. But since it is also open to the outside world, it has the luxury of also using nature as part of its canvas. 
Taking it to new levels of comfort and elegance
The first step in decorating your outdoor area is deciding what kind of space you want: a garden, a lounge, an atrium, or perhaps a meeting place. Figuring out this first will help you with all the other details. 
Here are some terrace design ideas that might inspire you:
Putting in the right lights for the style is important, if for nothing more than continuity. If everything is to be a single ideal, the lighting must match that ideal, otherwise, it throws off the whole scene. Plus, there is something spectacular about enjoying it at night, however, running into furniture you cannot see can ruin the experience. 
Lighting is functional and useful, but it doesn't hold a candle to a nice open flame, cliché intended. Installing a fireplace can make your outdoor space more romantic, and in the colder months, can be a nice area to gather around with the family for hot beverages and fun stories. It can even be a safe place to have a fake camp-out for the kids. There are many outdoor fireplace design ideas, including smokeless gas options.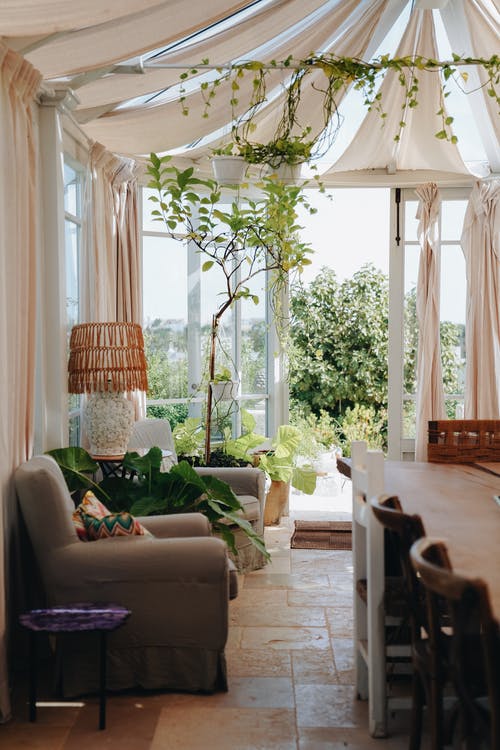 Many terraces are designed with the same brick or concrete as an extension of the original slab. Use this as a platform to do something special with the floor area. Add red brick or outdoor tile giving it a deck look. Many of these can be matched up to the home, and wood can be stained to complement the outdoor furniture.
Lots of people use their outdoor space to explore terrace garden ideas. Some surround the space with topiaries or make intricate terrace landscaping designs to draw attention to the space. They might even have tools just for that purpose, like the best lawn edger to keep the grass level with the flooring. With all the natural light, it is a fine way to use the space. Grow some herbs, some vegetables, or maybe some prize petunias. 
Conclusion: The extent of what you can do with your terrace is only limited by your imagination and your tolerance to certain temperatures. If you have an issue with the cold, installing windows that close might be wise. It is a wonderful part of the home. Do you have any ideas about designing your patio space?
Author's Bio:
Kevin is a content writer for about 3 years. He studied Design and Arts at College in Pennsylvania. A fan of home interior design and, he has taken it upon himself to spread his love for decorating homes by informing people on some of his ideas through his articles.