Do you own a sports club, golf club range, or sports pavilion?  If yes, then you might want to protect your flooring in these sports spaces by installing stud carpets. 
Stud resistant flooring provides a surface that can withstand foot traffic from shoes, especially sports shoes.  The main purpose of a spike-resistant floor is to provide a comfortable walking surface, without causing undue damage to the subfloor. 
Whether you need carpet for your home or commercial space, it pays off learning how durable stud resistant carpets can save you money in the long run. 
Protect Your Floor Investment
Your flooring investment includes the subfloor and your carpet. Sports shoes can damage smooth-surfaced floor covering. But, a high quality stud resistant matting can withstand these loads to protect the subflooring while maintaining its level of protection and aesthetic quality. Hence, you can save money from frequent floor repairs.
Prevent Slips
Governments impose safety protocols to protect the public from safety hazards. Property owners are responsible in ensuring that safety features are installed, such as mobility assistive devices and wet-free floor areas. 
Floor accidents can cause hundreds of thousands of dollars' worth of hospitalization and even legal consequences, especially in sports facilities. That's why investing in durable carpets is crucial to saving money from claims arising from slip injuries in your commercial establishment.
Stud resistant carpets provide a good safety level, which helps prevent slips. For instance, sports shoes, like golf shoes, are typically dirty or wet from outdoor activities. So, it's important to have carpets with surfaces that provide cushioning and friction resistance for a safe and well-supported space for walking.
Carpet Longevity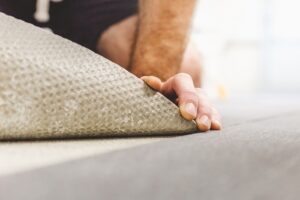 The reputation of your business also depends on what people see in your commercial space. A damaged and worn-out carpet can be an eyesore, which can cause a bad business image. So, it's essential to change your carpet if they look unsightly.
However, changing your carpets frequently can be costly. If you invest in poor-quality carpets, the tendency is that you need to replace them soon due to easy wear, especially in areas with heavy foot traffic.
Durability is a vital quality that you need to look for when investing in carpets. While most surfaces degrade quickly due to studded and spiked shoes, a high-quality stud carpet can resist weight and pressure. Therefore, you can use a stud resistant carpet for many years, saving you money from carpet replacements that come too soon. 
Promote An Enjoyable Space
It's important to consider the impact sound from the floor when walked upon by sports shoes and another rugged outdoor shoe because this factor drastically affects the comfort factor of the environment. Stud resistant carpets have dense patterned surfaces and are impact resistant, so they promote quiet walking, making the space more enjoyable. 
A more enjoyable space can save you money from customer complaints. Having good flooring is an important aspect of customer satisfaction, which, in return, increases your profits because more people will refer your business to their friends and family. 
Great Aesthetic Value
This type of carpet comes in a wide array of colors that can boost the aesthetic environment of your sports facility. Therefore, you don't have to invest too much in fancy décor because your carpet flooring is already a form of art that captivates the eyes. 
Boost Employee Morale 
The type of facility you have also affected your employees' morale. A clean and beautiful workspace provides a healthy, safe, and happy work environment. A great workplace makes employees feel professional, respected and honored. They're proud to tell others that they work for a reputable company. 
If your employees enjoy working in your building, then you save money from hiring and recruitment. On the other hand, if employees don't find your business establishment a great place to work, they'll look for jobs somewhere else.
Promote Cleanliness And Good Maintenance 
You'll spend less on dealing with cleaning and maintenance problems if you have durable carpet flooring. But, of course, it doesn't mean you don't need to hire cleaners anymore. Keep your commercial establishment clean and well-maintained to project a great business image.
Conclusion
Stud resistant carpets provide superior sound reduction that complements a calmer and quieter feel. For sports clubs, equestrian facilities, and other spaces stepped upon by many people, stud resistant flooring can save you money in the long run. This type of carpet is worth the investment. Just make sure that you buy from a reputable carpet company to ensure excellent quality.