As everybody may know, using wallpaper is a very good idea to completely renovate any room at home. But, if you are a new design style lover, floral wallpaper patterns are made for you.
Although this pattern is traditionally considered overloaded, this is a big mistake. It all depends on choosing the appropriate floral wallpaper according to its color, the type of pattern, and the features of your place.
So, with this little manual you could see that, among the many different genres and designs of wallpaper you can find in the market, floral patterns will provide your home with a fresh touch without losing the elegance your place needs.
The Features of The Room to Renovate
There are various things that are important to consider before designing a renovation using floral pattern wallpaper to get the best possible result. These factors are explained below:
Are we talking about the dining room or a children's bedroom? The toilet or the hallway? Of course, all the rooms in a house are susceptible to being decorated with floral wallpaper, but their function is essential to finally select our pattern. For example, a fantastic floral wallpaper is good for a teenage place, whereas a pea-green wildflower pattern can better suit an adult bedroom.
This is a very notorious factor to bear in mind before choosing the kind of floral wallpaper which is for us. In general terms, the bigger room, the bolder design can be.  And placing it only on a wall instead of all the place is especially a good idea if it is small.
Indisputably, floral wallpaper is useful to emphasize, to put a focal point above the wall it is on. Therefore, it would be a good idea to collocate it in a niche or if the walls make a different and beautiful shape in the room. But it can also play its part if there is an ugly angle in the place. The key is to set this wallpaper on a more attractive wall and leave the rest in the background.
Getting elegance and calmness is a common desire to renovate a determined place at home nowadays. If it is the intention, clear wallpaper where the flowers and the background are in different tones of the same color is always a success.
Floral Wallpaper According to the Colour
Despite floral wallpaper increasing joy in a place, perhaps because it calls to mind spring, color is one of the more effective factors to modify the feeling we intend to get in a certain place. These colors are remarked to help you in your purchase choice: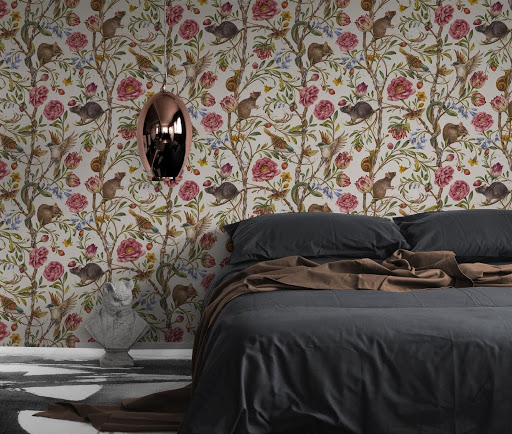 This color invites to relax and evokes feelings like tenderness, love, and protection. So, pink floral wallpaper can be perfect to get calm in a bedroom or maximize a good welcome to your guests in the entrance area.
Blue floral wallpaper can contribute to changing the mood in space in various ways depending on its tone. Clear blue means innocence and purity, so it is adequate for a baby bedroom, for example. Dark blue, by contrast, is normally associated with adulthood and robustness; it would be good in a dining room or an office.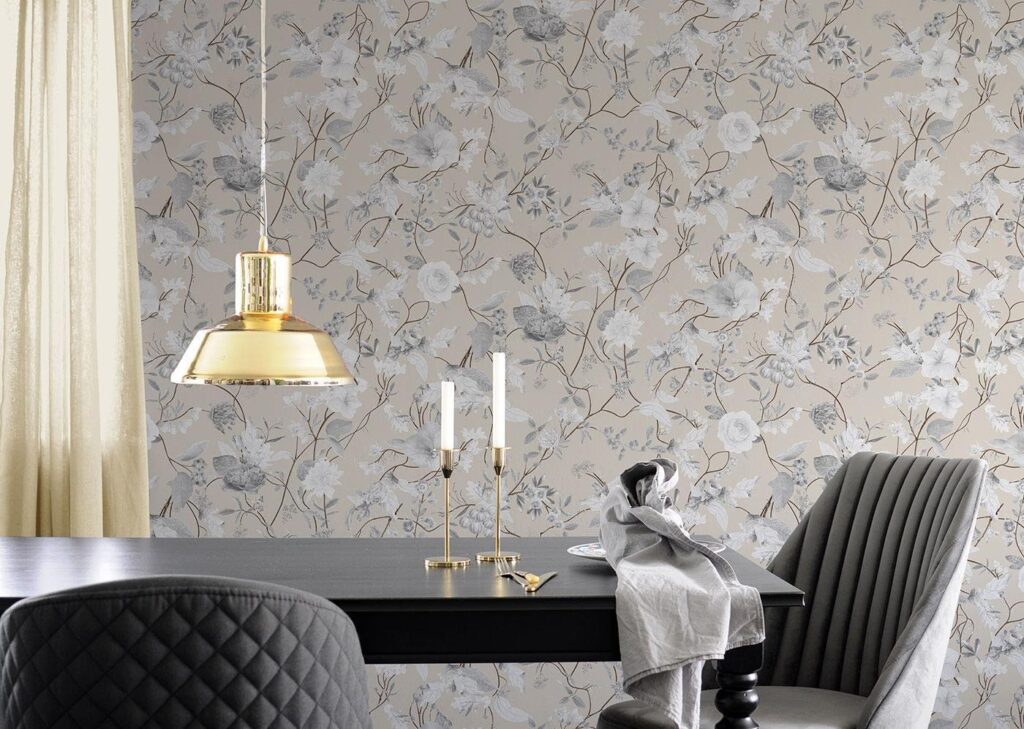 Grey expresses neutrality, calmness, and elegance. In this case, grey floral wallpaper could contribute to getting good vibes in spaces where many people meet, like living rooms, dining rooms, kitchens… And all with an extra touch of charm.
This is the color of nature par excellence and evokes hope, optimism, and luck. Consequently, green floral wallpaper can be the perfect option for a game room or even a hallway, because it can help us to recharge our batteries when we go from one place to another at home.
Floral Wallpaper According to The Kind of Pattern
Even when some wallpapers have in common they have a floral pattern, it is obvious that they can be very different from one another. And these aspects can be crucial to making a specific pattern the perfect election for the area of your home you want to renovate. The key characteristics that are important to pay attention to are described below:
The bigger the flowers are, the more they will lead the space. So, a big flower pattern is good to make a huge space warmer, while a more discreet picture is preferable in tiny areas in size. However, this is only an option. If you are brave enough, you can experiment with a big pattern even in small spaces. The emphasis will be notorious, but not necessarily unattractive.
As well as colors, flowers have different meanings and cause diverse feelings in people according to their type. As such, roses involve love and passion, lilies' power, and sunflowers' joy. It would be important to find out what a specific flower represents to pick a pattern according to the mood you want to provoke in a certain zone from home.
What accompanies flowers:
Paradoxically, flowers are not the only element a floral wallpaper pattern can have. Human shapes, animals, clouds, trees, butterflies, and so on can join the principal element of the picture, to give very diverse results. Some of them can be very realistic landscapes, which are very adequate for serious areas, and others can be even imaginative, perfect for youth spaces.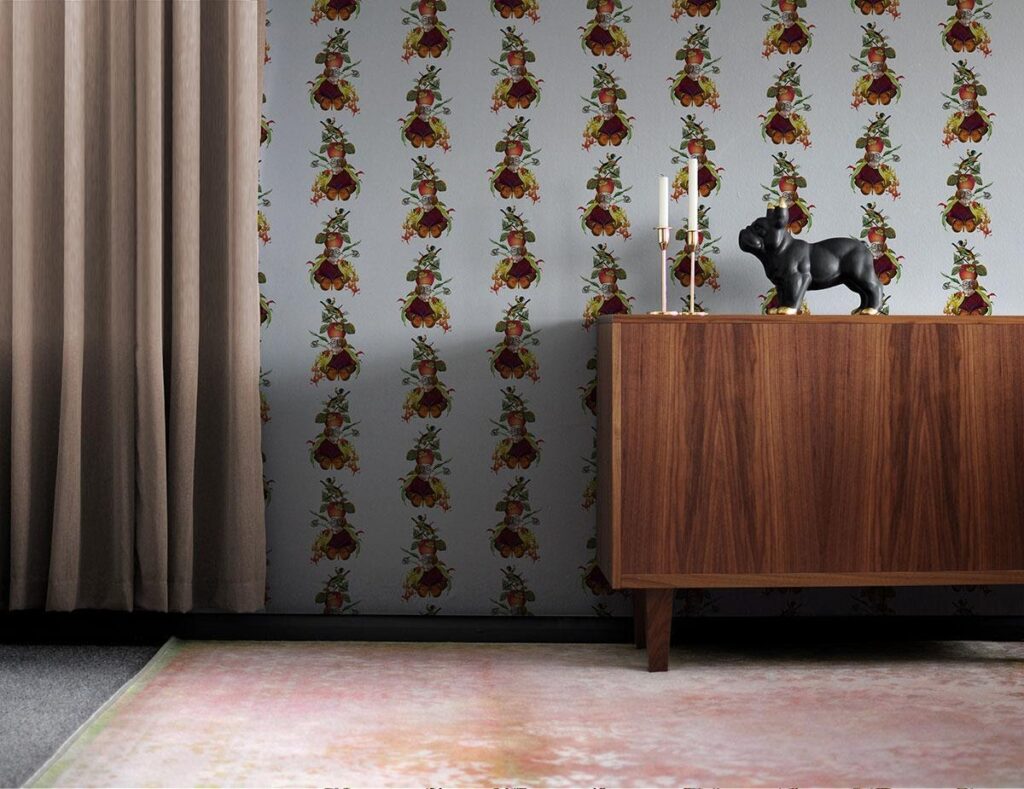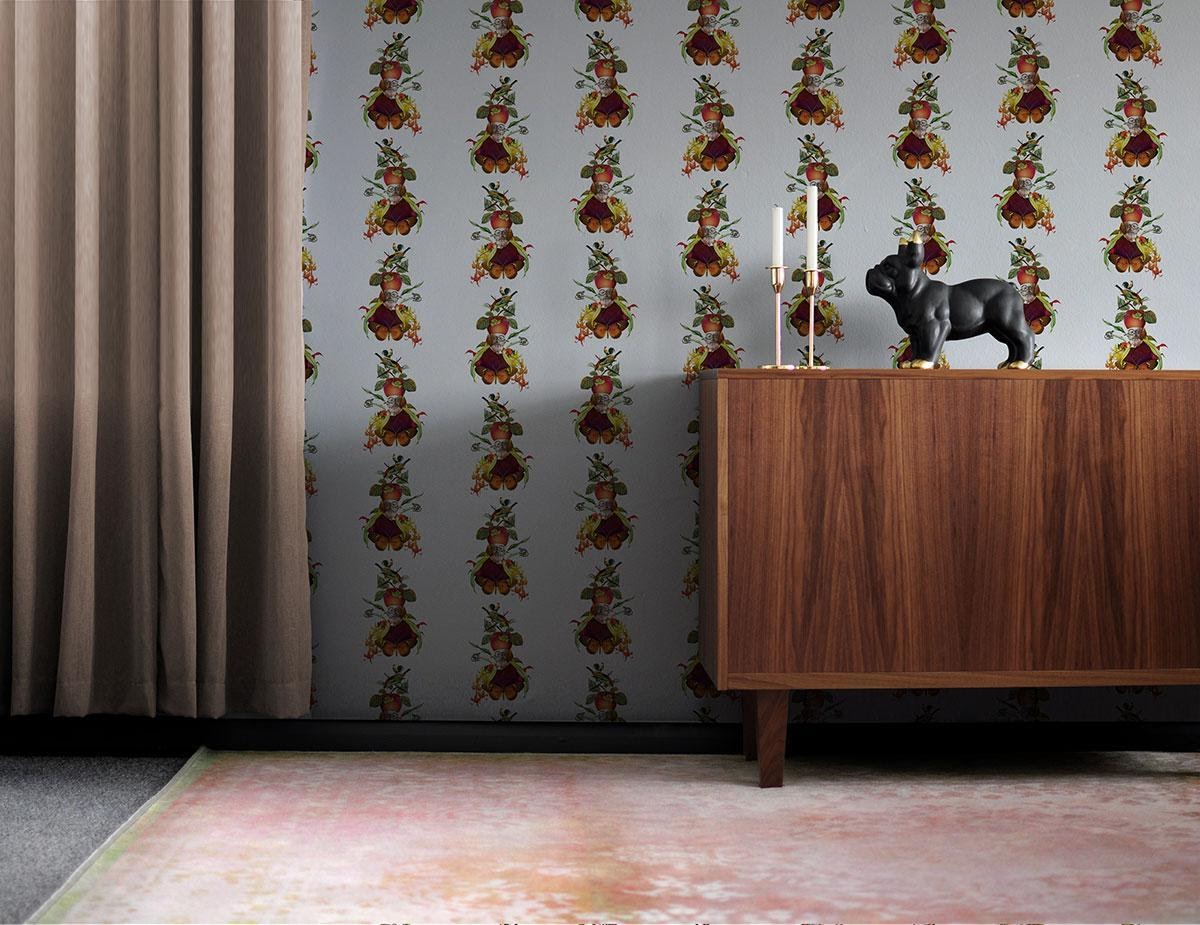 The different color, texture, or style of the background which goes with flowers in a wallpaper pattern is essential to define the final effect it will have on our walls. Logically, the more contrast with the main figure, the more strident the wallpaper will be. It would be good if stressing the space is what we want to get. On the contrary, flowers and backgrounds in similar colors or even in different tones of the same color is something preferable for a more subtle effect.
Make Your Choice
After this advice and consideration, you can bear in mind the main factors to choose the perfect floral wallpaper to renovate a space or room at home. Your own taste will do the rest. And remember, if you love a new design style, floral wallpaper patterns will be as stylish as you need.