Digital marketing is a rapidly growing niche and a promising way for businesses to generate more sales & revenue. As a result, the new trend of marketing i.e. digital marketing is vital for your business growth and brand awareness.
Online business offers several opportunities and steep growth, but it comes with fierce competition. Most businesses struggle to get the attention of their target customers and convert them.
Online marketing nurtures your business and makes sure you get the maximum audience exposure to drive a profitable business. Internet marketing is vital for all size businesses; it helps to maintain consistent cash flow and growth for small and mid-size businesses. Whereas, for big giants, it helps to multiply the current sales and remain dominant in the market.
However, digital marketing consists of various tactics that need some marketing budget, and you have to pay for these in order to get favorable results. Businesses always strive for cost-efficiency, and you must be thinking about economic or free marketing strategies to support your affordability and still get the marketing results.
Here are the top free and low-budget marketing tactics for all-size businesses to get stunning results without hitting your wallet hard.
Focus On SEO for Driving Organic Traffic
Organic search engine results don't cost you anything, and you get all the traffic for free. Moreover, the organic results in SERP have a higher CTR (Click-Through-Rate) than paid results. First-page ranking websites get the maximum clicks and conversions consequently.
Hence, if you need maximum business without paying for the search results, you have to earn the first page rankings for your business keywords. Search engine optimization promotes the top rankings in search engine results, and you need to give significant consideration to it in your marketing plan.
SEO gives sustainable and reliable business results, but it takes time to deliver the same. You need to do SEO consistently to improve your organic rankings and drive the most traffic to your business website.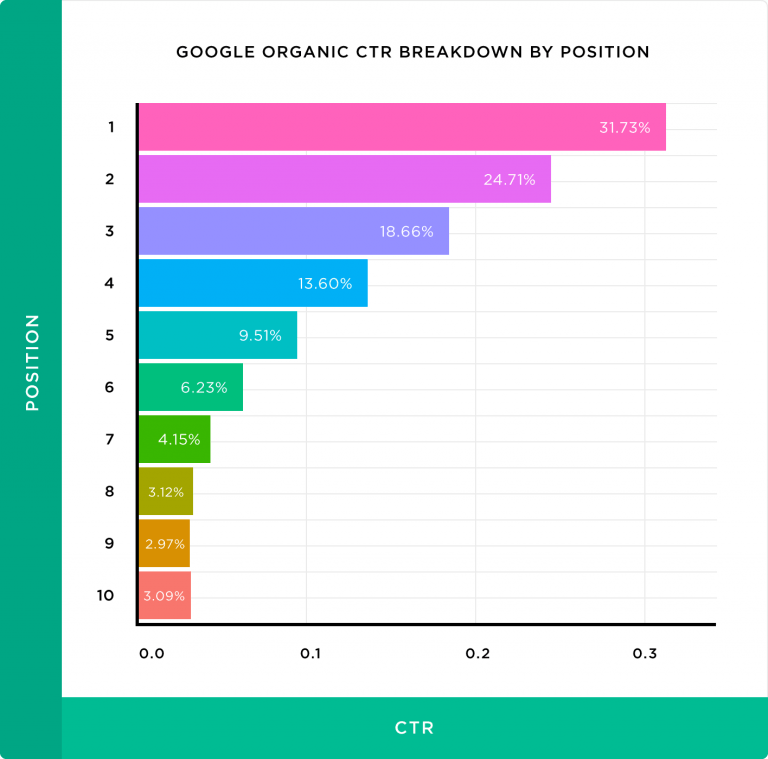 Source: Backlinko 
Make Local Business Listings
Another free digital marketing tactic to attract your nearby customers. Whether you are a local business or have stores in numerous locations, you should make your store's online presence to grab the nearby customers.
Google My Business, Bing Places, Yelp, Yellowpages, etc., are the prominent business directories where you can list your business and be digitally visible to your prominent customers looking for a business like yours.
Business listing increases the foot traffic, over the call bookings, and customer base of your business. So, If your business serves a limited area, then business listings can do wonders for you. 
Here are some stats that show the significance of local search optimization for your business.
97% of users browse information about local businesses online. [SEO Tribunal]
87% of local business searches on mobile result in a call or visit within 24 hrs. [Nectafy]
92% of searchers will pick businesses on the first page of local search. [SEO Expert]
As you can see, local searches have significant shares in the total searches. Moreover, people are searching for nearby businesses, including your target customers. So, make online business profiles on popular business directories and optimize them to rank in the top positions for the local searches to get tons of sales.
Add Products in Your Business Listings
If your business sells products, you might consider adding those on your business listings to intrigue the customers and convert them. When you showcase your products on your business listings, it increases your business's relevancy to the searcher's query and nurtures the buyer persona.
Moreover, product listings also help you get better ranks on the product keywords. So, include your business products on your business listings to boost your sales. Upload your business card in profile as well, as it lifts your brand identity on these listing sites. You can design an outstanding business card using Business Card Maker offer by multiple online graphic tools.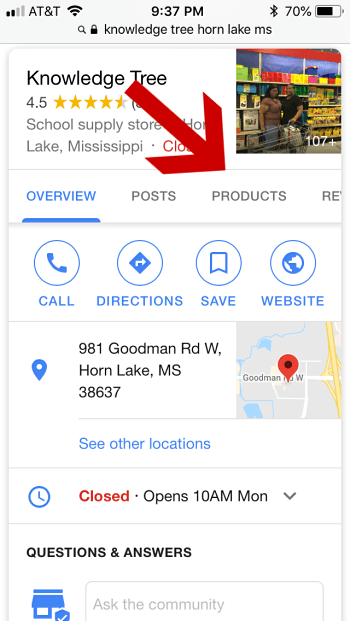 Source: EliRose
Consider Organic Social Media Marketing
Paid advertising is not the only way to promote your business on social media. If you are working on a limited marketing budget, you can do organic marketing on social media. Organic promotion may take some time but indeed deliver tangible business outcomes. 
You may create social business profiles to interact with your prospects over social media channels. You should analyze your audience and only consider the platforms where your target audience engages the most. Moreover, add your social profiles on your website and your website on social media to encourage the traffic flow on each other.
When you are doing organic social business promotions, you need to consistently post content on your social media profile. Moreover, this content should be engaging and shareable to hold your followers and earn new followers. You must interact with your audience in comments to boost the customer relationship. Moreover, reply to the DMs on time to make your customers valued and earn their conversions. 
Here are the benefits that you can have with social media marketing.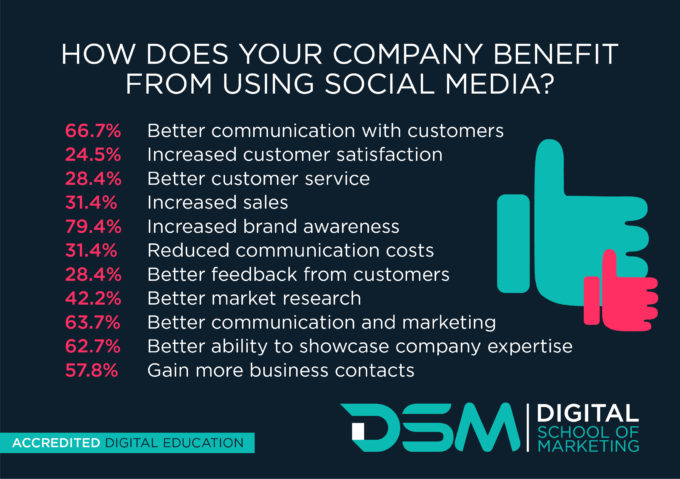 Source: Digital School of Marketing
Use the Email Marketing
Email marketing is an underrated marketing tactic that can do wonders for you. The stats in the below infographic will help you understand the effectiveness of email marketing. A business can use email marketing for various objectives like brand promotion, product promotion, announcements, deal promotions, content marketing, remarketing, etc.
Webmasters these days ask for permission to send offers and promotional emails to the users. Many users give consent when they find your products reliable and want to be updated about them. As you are not spamming and users themselves choose to get your emails, it increases the open rate and the conversions.
Email marketing is a cost-effective strategy and delivers amazing revenues against your investments. So, choose this low-budget marketing tactic for your business to get profitable business results.
Earn Customer Reviews
Customer reviews don't need any money. Only serve your customers best and ask them to share their experience with your brand. The better you serve your customers, the more happy customers review you'll have.
Customer reviews have a significant influence on the new customers, as you can see in the below image, 82% of customers read reviews before converting.
So, improve your website's buying experience best and provide the best post-sale experience to earn positive customer reviews. Moreover, if you get some negative reviews, respond to them humbly and provide appropriate support to optimize that negative review. It will make your image as a customer-friendly brand, multiplying new customers.
Hence, execute this free marketing strategy for your business to earn a plethora of new customers and boost your customer retention.
Source: BrightLocal 
Must-Do Remarketing
It's the most effective strategy to skyrocket your conversion rate and improve your ROI. Remarketing advertising includes reaching your previous site visitors and showing them the ads of products/services they browsed.
This way, you only advertise to the customers who already know your brand and have shown interest in your products.
The hyper-relevancy of the remarketing ads increases the CTR and conversion rate of your campaign. Moreover, it is the most promising way to treat your cart abandoners right and earn their conversions.
You can see this infographic for comprehensive information on remarketing advertising. You need to spend some on this, but it is a highly cost-saving marketing tactic, and you'll get astounding returns.
Conclusion:
These are the top 7 free and low-budget marketing ideas for all businesses. All these tactics may not cost you much but have proven records to deliver exceptional results. Hence, you must consider all these free marketing strategies to uplift your business growth while maintaining cost-efficiency.
Moreover, if you don't have any online marketing expertise, then hiring a digital marketing agency is also cost-effective. As the expertise helps you get the potential results, you might not fetch due to a lack of knowledge and experience. Hence, the fee of professionals is compensated by their amazing deliveries. 
Have great business growth!